Best 7 Epilator Reviews for Better Hair Removal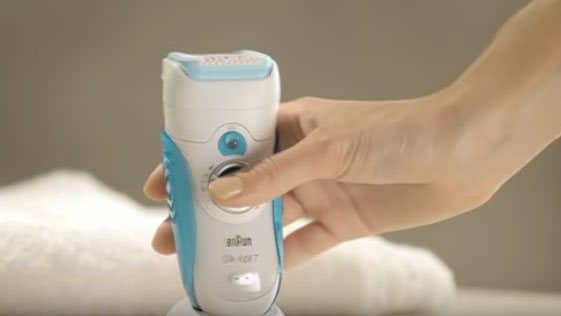 A complete guide: Epilator hair removal
Epilators have come a long way since we started using them for hair removal a few years back, with an infinite number of features, speeds, colors. There are so many options that it is confusing to pick a good epilator unless you are an epilator veteran. To skip ahead in this guide, please expand the table of contents below.
In this guide:
Reviews of the Top 7 epilators in 2018
With prices ranging from $30 to $160 and up to 10 features to shop from, picking one of many epilators available in 2017 can be overwhelming. To help you make your choice, we have rounded up the top 7 epilators of 2018. Each epilator is broken down into features as well as cons to make it easier to find the one that best suits your lifestyle and hair removal needs.
This is not the most expensive epilator out there but it IS the best epilator that money can buy in 2018. Let's see why.

The head of this epilator is extra wide, which helps remove more hair in each pass. The head vibrates while in operation, which minimizes the pain that you might feel while epilating. The vibrations help massage and numb your skin. And finally, the Braun Silk-epil 9 9-579 epilator head also pivots with your body. This helps keep the epilator head flat on your skin's surface in trickier areas like under arms or behind knees.

Thanks to its Micro Grip tweezer technology, the tweezers on this epilator are much longer and wider than standard. This makes this hair removal device even better than waxing, picking up hairs that you may not even see. The Braun Silk-epil 9 9-579 can pick up even a grain of sand!

It is cordless, with the longest lasting battery on the market, and can be used in both wet and dry environments. It's also easy to clean with a detachable head, which you can wash or use the included cleaning brush.

There is a built in light for better visibility. To help with sensitive skin areas, the Braun Silk-epil 9 9-579 epilator offers 2 speeds and an efficiency cap. This helps maximize hair removal and control how much hair you want epilate at any time.

Last but not least, the Braun epilator comes with 7 extras! Yes, SEVEN! This includes a shaver head that you can use to shave, a trimmer cap for trimming hair, an efficiency cap, a high frequency massaging cap, and a facial brush. The facial brush helps remove makeup and physically exfoliate any dead skin through micro vibrations. All of these attachments are waterproof just like the epilator itself. The seventh extra is a recharging stand for the epilator.

(The main epilator head is considered the 7th attachment, as all of the caps are interchangeable and some can even be doubled up, with 1 over the other.)

To read more about Braun Silk-epil 9 9-579 product specifications, click here.




What could be better

There are really no issues with this epilator. We had to think hard about this but here are two potential issues.

Initially, we considered the price to be a downside of this epilator. But after taking the number of attachments into consideration, the price is a 1 time cost that can save you money on razors, facial brushes, and a trimmer. For this many uses, the 1 time cost is more than reasonable.

The second potential downside could be that you cannot use the epilator and charge at the same time. The epilator must be charged before or after each use. This could be a matter of habit for you. If you wax at home, you have to heat up the wax before you can use it. Similarly, by keeping the recharging dock nearby and in sight, this problem can easily be avoided. Just remember to charge after each use so you're ready for the next time.

To read more customer verified Braun Silk-epil 9 9-579 reviews, click here.

Summary

By almost exceeding in each of the potential features that an electric epilator can have in 2017, the Braun Silk-epil 9 9-579 is an incredibly feature heavy hair removal tool. If you're looking for an investment epilator that has multiple uses, this is your epilator!

The Panasonic ES-ED90-P epilator comes in a close second to the Braun Silk-epil, offering another excellent choice minus a few features.

This epilator comes with a 60 degree pivoting head with a built in light and 2 operating speeds to epilate more or less sensitive areas of your body in 1 go. With 46 tweezers, it falls into the mid to high range for tweezer power.

It also comes with 6 attachments. Two of these attachments are epilating attachments, with a gentle epilation cap attachment and a precise cap attachment. The gentle cap is meant for areas of your body that have a low tolerance to pain as it reduces the number of tweezers running along your skin. The precision cap makes the head smaller so you can epilate smaller areas with more accuracy. The precision cap could be especially useful for men for beards.

Other attachments include a shaver head, a bikini comb cap, and a pedicure buffer for removing dry skin and calluses.

This epilator also works in wet and dry environments.

To read more about Panasonic ES-ED90-P product specifications, click here.




What could be better

Again, like the Braun, price and rechargeability are the main but still minor concerns. This is still an excellent investment in terms of price in that it is far less than even 1 salon wax session.

This epilator cannot be recharged while using it, like some corded epilators. Be sure to charge immediately after each or every few sessions to make sure it always runs when you need it to.

To read more customer verified Panasonic ES-ED90-P reviews, click here.

Summary

This is another best contender in the best epilators money can buy. It is missing some of the features, like micro grab technology, a trimmer or a facial brush, from our top pick, but adds some feature options to make up for it. Depending on what extras you'll use the most, the Panasonic ES-ED90-P could be your top choice.

Emjoi AP-18 – Most Powerful Epilator

Let's start with the main feature that makes this epilator such powerhouse – It has 72 tweezers! This is almost double our first pick and runner up. With 72 tweezers, the Emjoi AP-18 is an ideal epilator for legs, arms, or other areas with a lot of hair or dense hair. Epilating with the Emjoi AP-18 will be much faster than either the Braun Silk-epil or the Panasonic epilators.

However, this may not be the best epilator for a beginner for the same reason. 72 tweezers pulling hair is going to hurt much more than half that number. The Emjoi AP-18 also does not have any massaging or vibrating attachments that will help numb the pain for a beginner or for someone with low pain tolerance.

But if you're a seasoned veteran or have used an epilator 4-5 times, this is a powerful machine for you. Even if you are a beginner and plan on removing a lot of hair via epilation, it would be possible to build up tolerance and good technique by using it in smaller areas first.

The second feature unique to the Emjoi is the dual opposed heads. What this means is that the tweezers are not just at the top of epilator, but rounded out to extend out the top as well as the sides. These dual opposing heads allows greater flexibility as you travel over your body with the epilator. You can use it both on the right and left, and angle accordingly as you epilate.

The Emjoi AP-18 is corded with a 6.5 feet cord and offers 2 speeds.

It also boasts a Skin Glide technology that helps it grab all hairs on your skin. This technology helps it "scoop" up any hairs that are sitting flat and remove them from the root.

To read more about Emjoi AP-18 product specifications, click here.

What could be better

The Emjoi AP-18 does not have a built in light or shaving attachments. There is no efficiency cap, but you may not need one with the 72 tweezers and dual heads!

It is not water resistant, but it comes with a cleaning brush for good hygiene. It certainly is missing many of the features that our top picks have.

To read more customer verified Emjoi AP-18 reviews, click here.

Summary

While we wouldn't make it our top choice, this is a great epilator to have in your hair removal tool arsenal because it is incredibly powerful. Don't look to the Emjoi AP-18 for features. This is a workhorse epilator and exceeds expectations in the main goal of an epilator – remove hair.

The Emjoi Soft Caress Epilator is a different kind of powerhouse in that it is a highly efficient epilator for those with sensitive skin.

It only has 36 tweezers but has the "highest tweezes per minute". There are 2 speeds on this epilator. So while there are far less tweezers, at each of the 2 speeds, the tweezers rotate very quickly to pull out hair quickly. This makes the Emjoi Soft Caress Epilator perfect for causing the least amount of discomfort on sensitive skin.

Emjoi Soft Caress Epilator has another helpful feature for those with sensitive skin – all 36 tweezers are 24 karat gold plated with antibacterial properties. This plating makes the tweezers hypoallergenic and decreases ingrown hairs.

It includes a massage attachment that helps numb your skin during epilation. Like the Emjoi AP-18, it is not water resistant but includes a cleaning brush. It should not be used in the shower.

This epilator is also cordless and rechargeable. In fact, you can use it while it recharges unlike the other epilators we have covered so far. This allows you to use this epilator in any dry situations at any time!

To read more about Emjoi Soft Caress Epilator product specifications, click here.

What could be better

It would be nice to see Emjoi make their epilators water resistant. The Emjoi Soft Caress Epilator has so many features alongside great epilation technology. Being able to use it in the shower would round out its feature list and make it contender for a wider audience.

To read more customer verified Emjoi Soft Caress Epilator reviews, click here.

Summary

It's hypoallergenic tweezers and fast rotating tweezers make the Emjoi Soft Caress epilator a unique product. If you have sensitive skin or are prone to ingrown hairs, this is the epilator to get.

If you're worried about, there are a few decent options in a lower price range that offer a good value as a beginner epilator. The Remington EP7030 is one of the best in this category as Remington is one of the original companies in the epilator industry.

The Remington EP7030 epilator has 40 tweezers and operates at 2 speeds. It also has a pivoting head with a few cap attachments. The precision cap, perfect angle cap, and massaging cap all help you customize your experience according to what area you are epilating. There is also a built in light for better visibility.

It is rechargeable with a power adaptor and otherwise cordless, and can be used wet and dry. You can wash it off in the shower after use by removing the head or use a cleaning brush, also included.

To read more about Remington EP7030 product specifications, click here.




What could be better

The epilator is highly functional, but lacks additional features that make this a versatile travel friendly tool. It also lacks some technological developments in terms of tweezers and epilator motor like our other picks.

To read more customer verified Remington EP7030 reviews, click here.

Summary

There is a low frills epilator that does the job, and does it well. If you're a student or not sure about epilation as a hair removal process in general, this is an excellent experimental product. That's not to say that it is not good for long term use. These epilators will run for years. So if you find that you don't need more features, you'll find the Remington EP7030 performs very well.

Codream 4-1 – Best Value Epilator with Features

Are you looking for a beginner epilator with a few more multi-purpose functionalities? Look no further than the Codream 4-1 epilator.

It is a lesser known epilator with a younger brand. But don't let that hold you back if the features make this an appealing choice for you.

The 4-1 refers to the 4 functions this epilator offers via attachments – epilator, shaver, hair clipper, and callus remover. Amongst the extras, the callus remover on Codream 4-1 is highly rated attachment. In terms of multifunctionality, this is a powerhouse.

It is rechargeable via power adaptor and can be used while plugged in or as cordless. There is a built in LED light. The epilator head can be removed and washed with water. But the epilator itself is not wet/dry and should be using in dry places only.

To read more about Braun Silk-epil 9 9-579 product specifications, click here.




What could be better

In terms of features, making the whole epilator water resistant would make this epilator well rounded.

Aside from features, the Codream 4-1 epilator does lack the latest technology in both tweezers
and epilator motor.

To read more customer verified Braun Silk-epil 9 9-579 reviews, click here.

Summary

Want an beginner, budget friendly option that offers more features and versatility than the Remington EP7030? The Codream 4-1 is your epilator.

For our last review, we asked ourselves – What is the cheapest basic epilator that does the job?

Why bothering asking this question? We recognized that sometimes you want to spend the least possible money to figure out if a particular hair removal method even works for you. With that in mind, we concluded that if you want a basic starter epilator, the Philips Satinelle HP-6401 is one to try.

It has 21 tweezers, 2 speed setting and an efficiency cap. You can also wash the top epilator head by taking it off the body of the machine, which is not water resistant.

It is a little louder than the other epilators we have reviewed. It is also corded.

To read more about Philips Satinelle HP-6401 product specifications,click here.

What could be better

Almost everything.

This epilator has none of the features of our epilators and no additional attachments. It has a low number of tweezers and no built in light. And it is not water resistant and so cannot be used in the shower.

To read more customer verified Philips Satinelle HP-6401 reviews, click here.

Summary

Remember this is a basic, no frills epilator. It is much lower in price than the others we have picked to review here. But this is also a best selling epilator and has been for many years. So it may not be fancy, but it works! The Philips Satinelle HP-6401 would be a great epilator to start your epilating journey with, and later adding a second more efficient epilator to your hair removing arsenal!
What is an epilator?
Epilators still enjoy a somewhat anonymous status. Many women have never used or heard of an epilator! This is ironic because epilators can be the ideal method of hair removal for a lot of people, men and women.
The epilator is a hair removal device that uses groups of tweezers to remove hair from it's root. The tweezers are usually metal or ceramic. As you pass the epilator over your skin, its many tweezers rotate to grab many hairs and remove them completely just like waxing.
Epilation allows you to be hair free for longer than shaving, similar to waxing. Like waxing, when the hair regrows out from its root, you must epilate to remove it again. Depending on fast your hair grows, you could enjoy smooth skin for 1 to 3 weeks!
So why is the epilator a better alternative to shaving or waxing?
Long lasting smooth skin
Epilating gives long last smooth skin. If you remove hair by shaving, you are probably shaving anywhere from every 3 or 4 days to daily. Epilating is like waxing. It removes the hair from the root. So you have to epilate only as often as your hair regrows from its roots. That means you can enjoy smooth hairless skin for a week up to 2 or 3 weeks!
Easy
It's also as easy as shaving, if not easier. Epilators come in many features, from cordless to rechargable to waterproof to vibrating heads that numb your skin. There is no nicking your skin or causing razor burn like shaving.
It's definitely much easier than waxing. You may need to recharge your epilator, but there is no warming up of wax or other preparation. You even don't need to wait for your hair to grow out ¼ of an inch, like for waxing. You can epilate the minute you start to see or feel hairs. And you can epilate from anywhere, home or a hotel.
Cheap
If you shave, how often you buy new razors or razor heads? Or you may go to a wax salon, which can cost up to $200/visit. Not to mention having to schedule an appointment and worry about hot wax burns. Even if you wax at home, you're spending money on wax refills or waxing strips.
An epilator is a 1 time cost for several years. With epilators ranging from $40 to $140, you only have to spend that once to epilate for years. Without a doubt, epilating is the cheapest hair removal solution available to men and women today. And with technology improving every single year, epilators are becoming a go-to for hair removal for more people every year.
Features of an epilator
There are over a hundred epilators available to try out there today. You could start with any of them. So which one do you pick up? What are the differences between each epilator? Are they all the same? Why are some more expensive than others?
A few years ago, a lot of epilators were fairly straightforward. They only worked if plugged into an outlet, in dry environments (not in the shower), and sometimes hard to clean. Today, epilators are available with lots more features. Here are some of the features we looked at to differentiate a good epilator from a better one to find some of the best epilators available to us in 2017:
Pulls hairs rather than breaks hairs

A common question we get is: do epilators cause ingrown hairs? They can with a low quality epilator. So what does that mean?

A good epilator will grab the hairs at their roots to pull it out completely. It should not be grabbing hairs halfway and breaking them. This will lead to faster re growth because the hair was not removed and only broken, like shaving.

It could also mean more ingrown hairs because when a hair is pulled until it breaks halfway, it is stretched out. After it stretches and snaps, it curls back towards the skin and could become an ingrown hair.

Number of tweezers

The more tweezers on the head of the epilator, the faster you'll pull out more hair. Each of the tweezers grab hairs as they rotate.

So with an epilator that has a high number tweezers, you'll be pulling out more hairs per pass of the epilator over your skin. This can be great because you'll spend less time epilating.

At the same time, if you have low tolerance for pain, more tweezers could also mean more pain. So it is important to know how many tweezers an epilator has, so you can make an informed decision.

Cost

Epilators can cost anywhere from $30 to $150 and prices go up with increased features, details, and accessories. Lower priced epilators can have lower number of tweezers and less convenient details, but are a good place to start if you are unsure about epilation.

On the other hand, if you wax often or use a hair removal method that removes hair from the roots, a good quality epilator can be a useful tool. While the initial cost can seem high for an epilator will all of the features, bells and whistles available, the money you save by replacing wax salon fees quickly makes the epilator a good investment.

Efficiency cap

If you have low pain tolerance, the epilator cap is a must have. It is an attachment cap for the epilator head, where all the tweezers are, to help lessen the pain of epilating.

It is curved and helps optimize the surface area that touches your skin to maximize the angle needed for epilation. The shape of the attachment cap helps you keep the epilator at a 90 degree angle, which is the best angle for epilation. It also makes epilating less painful.

Easy to clean

This is another must have. To make sure your epilator works for a long time, you want to be sure to clean it. The tweezers that pull hair out rotate at the top the epilator. In a good epilator, you are able to take that top portion off or apart to clean out any hairs that might have gotten stuck in there while the tweezers rotate.

A clean epilator will also help keep your skin free of any acne or similar breakouts that are a result of bad epilator hygiene.

Speed options

Variable speeds help you control how fast or slow the tweezers turn. This is especially useful when you are epilating a curved and sensitive area, like an armpit or the back of knee. These areas can hurt a lot more.

If your epilator has two or more speeds, you can continue epilating up an arm or leg by just slowing it down when you reach a sensitive area.

Built in light

Most of us will epilate in a bathroom, and sometimes bathrooms do not have the best light at night. Having a built in light at the head of the epilator that shines on your skin can be really helpful when you have to epilate during an evening.

The built in light can help you see hairs that are shorter or finer so that you don't end up with patchy areas due to bad overhead lighting.

Accessories

There are a lot of accessories available with some epilators. Some accessories make the basic epilator into a powerful 7-in-1 or 5-in-1 tool with attached heads for shaving hair, exfoliating, or even scrubbing your heels.

Epilators with accessories can be the ideal choice for anyone who travels or does not have a lot of storage in their bathroom because one tool does so much more than just epilate!

Cordless

Corded epilators work just as fine as cordless or rechargeable epilators. However, if you travel or your bathroom outlet is too far to be comfortable, a cordless option can be a small detail that offers tremendous convenience.

So think about where in your home you will be using your epilator, and if having a cordless epilator will make your life easier. Alternatively, if you travel often, cordless is definitely the way to go.

Wet/Dry options
Want to be able to shower and epilate in 1 go? A wet/dry epilator might be your best friend. These epilators can be used in the shower with the water running. This helps with cleaning up the hair that is epilated and the epilator itself. As these epilators are water resistant, you can wash the epilator and the tweezer heads and let it dry in the shower for the next time.
These epilators are also ideal for travelers, who can use in hotels and airbnbs without worrying about the mess and cleanup.
What about pain?
All this talk about removing hair from the root brings us to an important question – How much does it hurt?
The answer depends on your tolerance for pain. We have found that it hurts less than waxing but more than shaving. However, if shaving gives you ingrown hairs then trading your razer for a good epilator may still be worth it. A well designed efficiency cap also helps with any pain you might experience.
Even if you do experience pain from epilation, there are a number of ways you can reduce epilator pain.
All in all, unless your pain tolerance is insanely low, don't be put off by the reports of pain. With some practice, the epilator can become your go to tool for hair removal.